June 3rd: Day 28 – Sydney to Perry's Lookdown
Said a big thanks and goodbye to Rowan and Lotti this morning.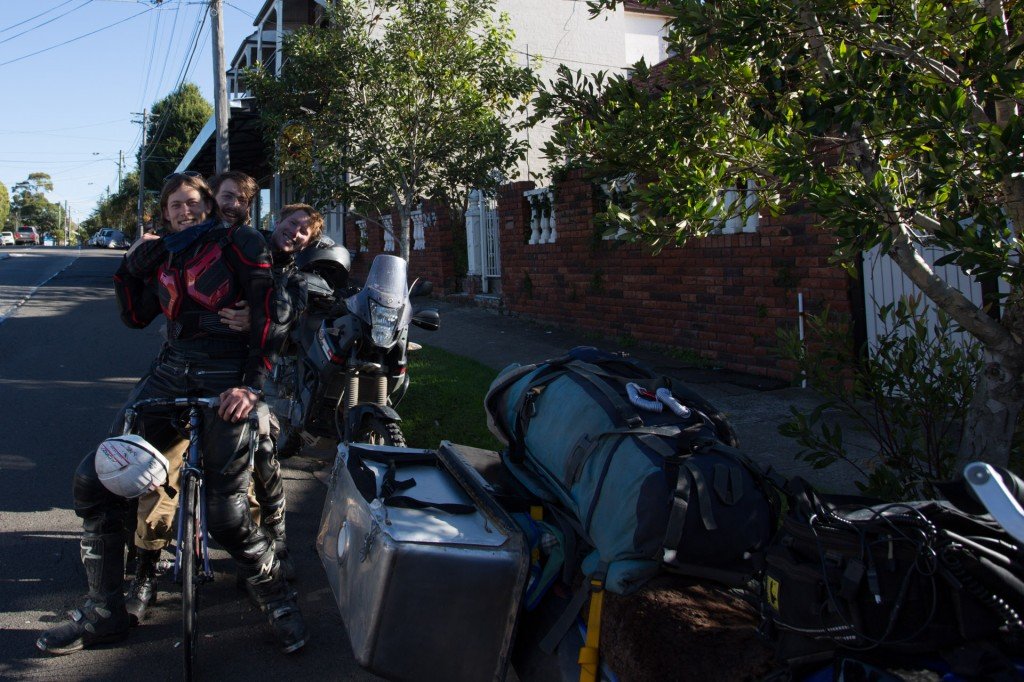 After packing everything up this morning I couldn't find the key to Mawson. Looked and looked over and over but couldn't find it anywhere in my gear or in the house.
In the end I made a few calls to Kawasaki dealers to find out what the story was with replacement. The answer was it would take 3 days to get the $22 blank in, I would then have to get it cut and return it to them to get it activated for the immobiliser in the bike.
I had my spare key in a safe place with me however I wasn't willing to head bush using the spare. *Sydney trying to capture us*
Raman suggested getting a hardware to cut another from the spare. I didn't think a hardware was going to have a blank. I called a locksmith in Marrickville and he sounded optimistic. He was only a few minutes ride away. I handed over my spare and less than a minute later the locksmith passed me back the spare with a fresh copy, "$7 thanks". WOW, done! Problem solved and only for seven bucks and a few minutes ride. What about the immobiliser I "hear" you saying? The KLR doesn't actually have one, its old school, simple tech. This is one of the reasons I choose the KLR.
We made our way up to Ultimo where we picked up a 32GB SD card for the GoPro (should have tested it). When I did test it later it didn't work.
Thanks to a late start and the loss of my key, it was now mid arvo. Playing cards till late is all well and good but getting away after mid day is a bit of a problem. The camping time schedule is very different to that of the city. Its so easy to stay up late when lights are on everywhere.
We copped the traffic badly. Stuck in long queues of cars with the low sun straight in our faces wasn't so much fun.
When we finally did get out of the urban madness and began the climb from the plains up into the mountains, the sun had set and we were riding in the dark. The air at Kataoomba (approx 1000m asl) was cool, even cold, but we felt relieved to have escaped the clutches of Sydney. Both Raman and I are most grateful to Rowan, Lotti and friends for making out time in the big smoke a lot of fun and yet, despite this gratitude, we are glad to be in the mountains once again.
We sat down for a dinner in Katoomba and before my food had arrived I got a call from a friend from home, Kaya Storm. Answering the phone, I walked out of the restaurant. I told Kaya I was in Katoomba and he responded that he knew that I was…I was just about to ask him how he knew that when I realised I was looking at him. What a surprise!
After dinner we had a chat and I had the pleasure of meeting his fiancee, Marcel.
We headed out of town in the dark to a place called Perry's Lookdown. There are so many places around Katoomba that are perched on the edge of cliffs with views that are hard to rival!